10 Most Promising CEM Consultants - 2021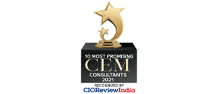 Customer experience has become a critical differentiator in today's hypercompetitive market. It is important to deliver personalized experiences to customers and to gain their loyalty and thereby make them evangelize about the organization to others, this is the biggest advertisement any organization can get. For this gaining deep knowledge about customer needs is necessary. This can be made possible only by collecting vast amount of customer data and extracting valuable insight from that data with speed and precision. As a result of need to increase customer engagement and reducing rate of employee's leaving the job the data and effective use of customer data for these purposes have enhanced the growth of CEM market. The customer experience management market is projected to grow from USD 8.5 billion in 2020 to USD 14.9 billion by 2025, at a Compound Annual Growth Rate (CAGR) of 11.8 percent from 2020 to 2025.
Industry Outlook in this issue presents a list of "10 Most Promising CEM Consultants - 2021" who have leveraged their extensive industry expertise and experience in bringing innovative products and solutions. The following list has been prepared after being closely scrutinized by a distinguished panel of judges including CXOs, analysts and Industry Outlook editorial board. We recognize their valuable contribution to the ever expanding and competitive market and their ability to sustain themselves and emerge as top contestants through their reliable product and services.
We present to you CIOTechOutlook 10 Most Promising CEM Consultants - 2021.
10 Most Promising CEM Consultants - 2021
| Company Name | Company Description |
| --- | --- |
| Arch Technologies | Provides special services for IT problems and drives digital transformation across industries |
| | |
| --- | --- |
| Adray | Devices a fail-proof digital marketing strategy that will be pivotal to business growth. |
| Agnoshin | Focuses on platform, protocol, and device-independent solutions in the customer experience management ecosystem |
| Customer Experience Lab | Deliver more efficient and effective customer experience using innovative design thinking |
| Delta Dynamix | A Service Integration Management Company committed to manage Customer Service Experience in a consistent and efficient way, ensuring performance |
| Innovatus Marketers Touchpoint | Offers high-quality performance in the sales and marketing functions and helping clients interact better with their customers, employees, and partners |
| RedMango Analytics | It is involved in Data processing, processing or tabulation of all types of data. on an hourly or time -share basis, and management or operation of data processing facilities of others on a time... |
| Suyati | Implementing CX solutions for any organization and gives a greater return on investment |
| Wizrdom | Wizrdom is an integrated digital marketing agency focused on solving your sales and marketing problems |
| Vion Consulting | By applying the power of big data and machine learning, develops predictive models to automate customer interactions in multiple languages |