20 Most Promising CEM Solution Providers – 2018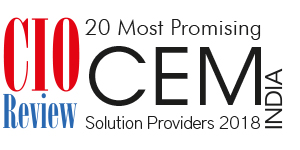 This is the age of the customer. And customer relationships are no longer limited to buying and selling of a service or product, rather it is about adopting customer centric strategies. Organisations today are going out of their way to woo potential customers with attempts to continuously engage them right from the stage when they are simply surfing through their options.
Standing as one of the most important differentiators for organisations in the highly competitive business landscape, the CEM market is expected to reach an estimated USD 16.91 Billion by 2022. However, with the availability of numerous digital channels for engagement, customer are now demanding consistent experience through out,be it via mobile phones or desktops, social media sites or e-mails. This demand has spun off one of the most interesting trend in the CEM market which is the movement towards omnichannel engagement. Simultaneously, businesses have also been investing to embed technologies that enable predictive data analytics to drive better customer engagement.
With the growing opportunities, a number of vendors are now venturing in the CEM market. However, opting for the right CEM solution provider from the myriad of those present in the market can be a strenuous task. CIOReview India comes to you with the list of "20 Most Promising CEM Solution Providers". A distinguished panel of CEOs, CIOs, Industry Analysts and the CIOReview India Editorial Team have closely scrutinized and nominated the vendors who have been transforming the CEM market through their unmatched domain expertise, addressing the various challenges that exist, while enabling businesses to strengthen customer relationships.
We present to you CIOTechOutlook 20 Most Promising CEM Solution Providers – 2018.
Top CEM Solution Providers –
| | |
| --- | --- |
| Audetemi | Provider of customer service mobile application integrated with enterprise CRM/CSM system via cloud. |
| CEM Brand Capita | Provider of customer experience management services. |
| ChannelKonnect | Provider of platform for channel visibility and engagements |
| Cloud Cherry | Provider of customer experience solutions. |
| Codelattice | Provider of AI based solution for customer relation management. |
| Cognizant | Provider of a CEM platform that addresses customer experiences across all touchpoints |
| EaziPoints | Provider of mobile application on cloud platform to establish direct communication between end consumers and owners. |
| Enhancier | Provider of solution for customer relation management. |
| Genesys | Provider of solutions to meet customer engagement across marketing, sales and service. |
| In10stech | Provider of solutions for customer experience management. |
| InSeon | Provider of programs based on customer experience management, customer retention and customer loyalty. |
| LitmusWorld | Provider of an integrated platform to measure, act and improve business processes that drive customer centricity. |
| Metclouds Technologies | Provider of web appication, mobile application, web design and other services. |
| Mize Inc | Provider of solution for customer relation management. |
| NetCarrots | Provider of solutions for customer loyalty and relationship marketing |
| RedQuanta | Provider of solutions based on customer experiences. |
| Servion | Provider of solution for building customer engagement hub. |
| Sicap | Provider of context aware customer engagement solution. |
| Software AG | Provider of solutions for customer experience management. |
| VIS Networks | Provider of solutions for customer experience management |