20 Most Promising CEM Solution Providers - 2017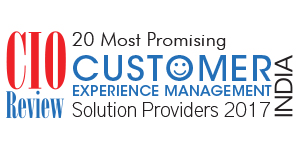 In the present digital era, organizations optimize innovative technology to deliver better experience to customers across all channels and devices because customer experience has become major differentiating factor among brands. Hence, enterprises look out for better ways to engage and retain their customers. The prime objective of CEM is to optimize interactions from the customer's perspective for enriching customer loyalty. Nowadays, changing customer behaviours are creating new opportunities in the IT ambience in terms of customer engagement and services.
At present, enterprises focus on fulfilling specific customer's demands and the way organizations engage with their customers has become a vital factor in defining their success. For surviving in this technology era, the necessity of today's companies is solutions that can optimize data analytics from all customer touch points and channels. Therefore, they need best of breed partners who are able to deliver excellent CEM solutions that can help enterprise operate more efficiently, ensure customers get maximum value, seize new business opportunities and boost revenue.
As many IT vendors offer diversified CEM platforms, solutions and services, identifying and getting connected with the apt partner is a herculean task. We at CIOReview understand the difficulties of enterprises in choosing the right partner who can provide apt CEM solutions to analyze and utilize customer behavior, preferences and sentiments. We present a list of "20 Most Promising CEM Solution Providers", aiming to assist organizations in their CEM requirements. A distinguished panel comprising of CEOs, CIOs, industry analysts and CIOReview editorial team have scrutinized various companies before finalizing these vendors who can provide advanced technology solutions for creating better customer engagements, increasing ROI and enhancing customer experience.
We present to you CIOTechOutlook 20 Most Promising CEM Solution Providers - 2017.
| | |
| --- | --- |
| Accenture | A provider of Digital Customer Experience Services who offers Advanced, Integrated Customer Analytics, Customer Insight Platform and Internal and External Data Integration and Management. |
| Acrotrend Solutions | A provider of Customer Insight and Analytic solutions who delivers end to end Data analytics consultancy service. It offers services such as Customer Data Management, Customer Analytics and... |
| Cognizant | A provider of Customer Experience Platform who addresses customer experiences across all touch points, including customer acquisition, billing, payment, collections, service orders, energy... |
| COPC Inc. | A provider of Consulting, Training and Certification globally to improve Enterprise Customer experience operations. |
| Cybercom Datamatics | A provider of strategic advisory, innovation, creation, testing and Management of digital solutions. |
| Dreamfolks Services | A provider of Customer Experience Program Management, Lounge Access Program Management, Airport Mercantile Services Program Management and Consultancy & Advisory Services. |
| eMeme Digital Solutions | A provider of end-to-end digital business technology solutions who offers Digital Marketing Strategy, Content Management Systems, eCommerce Development and Android App Development etc. |
| Enhancier Cx Solutions | A provider of customer experience platform with full fledged CRM with modules like, sales, customer service, order management, inventory management, Marketing & campaign management, email response... |
| HRH Next Services | A provider of service Inbound, Outbound, Social Media and Ticketing Solutions for enhancing Customer Engagements with Voice, Mobile, Chat, Social, Email and SMS. |
| Huawei Telecommunications | A provider of CEM solution to focus on proactive customer care for high-value customers, experience improvement for unsatisfied users, and Market intelligence analysis for operators. |
| IQturf Consulting Services | A provider of Analytical solutions which offers C-Suite Analytical Advisory, SMAC Accelerators, Analytical Maturity Audit and Analytical Apps etc. |
| Knowience Insights | A provider of Web Surveys and Text/Image or Video Polls to Marketers, Sales Professional, HR Managers and Web Publishers. |
| NICE Interactive Solutions India | A provider of services such as Perfecting Customer Experience, Protecting People & Assets, and Fighting Financial Crime for enabling organizations to operationalize Big Data |
| Nokia | A provider of CEM solutions with real-time analytics, predictive marketing and customer care, device management, billing, and service operations. |
| OneDirect | A provider of products like CX Consulting, Service Cloud, Marketing Cloud, Feedback Cloud and Fusion Cloud to connect with customers across all touch-Points. |
| Outer Circle Digital Services | A provider of services like App Development, Web Development, SEM,SEO and Social Media etc. to to converge and deliver strategy for online marketing Needs. |
| Pinnacle Digital Analytics | A provider of next generation network analytics and customer experience management solutions for high performance real time analytics, market and revenue Planning and customer usage analytics etc. |
| Predictly Tech Labs | A provider of CX Analytics Platform for actionable insights from Semi and unstructured datasets. |
| Servion Global Solutions | A provider of CX Platforms, CX solutions and CX Offerings such as Business Consulting, Managed Services, Professional Services and Product Engineering Services to to enable business transformation... |
| SOMAYAJI Group of Companies | A provider of Information Technology specializing Payment Solutions, Corporate Event Management and Corporate Film Making, Realty etc. for multiple verticals like Banking, Insurance, Government,... |