20 Most Promising Customer Experience Management Solution Providers - 2016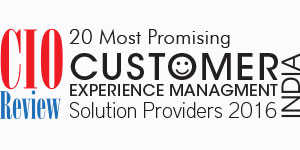 According to MarketsandMarkets research, the CEM arena will be worth $8.39 Billion by 2019. Correspondingly, Gartner states that by the year 2017, 50 Percent of consumers product investments will be redirected to customer experience innovation. The challenge, of course, is to intelligently prioritize these investments.
As widely discussed as customer experience is, the process of designing these experiences is a discipline that few organizations have embraced. Ranging from identifying and closing experience gaps to true innovation, the ability to bring customers and their expectations into the design process – testing solutions and iterating improvements before scaling – will be a hallmark of the most customer-centric organizations. It is important for brands to realize, understand and act on the fact that every single customer touch-point matters a great deal in shaping a great customer experience.
True across all categories, customers use multiple devices to access online reviews, company websites, TV ads, recommendations and more. And while customer journey maps will continue to be a good tool for understanding the gaps and pain points in customers' experiences; the ever growing demands related to speed, cost of delivery, and ease of online transactions is compelling. With applications attracting customers 24/7 across the globe, Testing Analytics for site performance, ROI, and conversions become critically important for accurate data for crucial decision making. Consequently, organizations are on the lookout for vendors who can effectively help them to make sense of these vast mass of structured as well as unstructured data.
Realizing this, we at CIOReview have come up with a list of '20 Most Promising Customer Experience Management Solution Providers'. Having being closely scrutinized by a distinct panel of judges including CEOs, CIOs, CXO, analysts and CIOReview editorial board, these vendors are well experienced in designing outstanding experiences and ecosystems to deliver the right experience to the consumers while demonstrating the business value of CX as a discipline. In short, these vendors can be rest assured to enable customer experience leaders to create an atmosphere that meet or rather exceed consumer expectations to drive profits.
We present to you CIOTechOutlook 20 Most Promising Customer Experience Management Solution Providers - 2016.
| | |
| --- | --- |
| B2X Service Solutions | Deploys after sales customer care solutions for consumer electronics manufacturers, retailers, mobile network operators and insurance providers. |
| Capillary Technologies | Works to deliver cloud-based software solutions that enable retail marketers to build, manage and analyze customer data to gather insights and personalize customer engagement across social media,... |
| CustomerXPs | Invloved in designing real-time multi-channel enterprise fraud and customer experience management products for global tier 1 banks. Also specializes in Fraud Management, Anti-money Laundering and... |
| Espire Infolabs | Strong practices in areas such as Portal & Web Content Management, Customer Experience Management and Customer Communication Management (Document Composition & Enterprise Content Management). |
| GladMinds Technologies | Provides After Sales Engagement Services, Help Desk Software, Loyalty & Coupons Software, Field Force Automation Software and 3D Visualization. |
| HGS | Avails business process management services, digital enablement services and consumer interaction services for back office business services. |
| iLeadFarmers | Sculpting solutions in areas of UX, UI Design, Creative Website Experiences, Digital Marketing & Communication, Strategic Marketing Campaigns and Social Media Communication. |
| Inquirly Technologies | Specializes in Social Listening, Multilingual Engagement, Real Time Engagement, SMS Capability, Bluetooth Enabled and i-Beacon Engagement. |
| InteractCRM | Proffers Cloud Ready Multichannel CX platform that centrally receives, evaluates, routes, personalizes and assigns contacts across Inbound and Outbound Voice, Email, Fax, Web Chat, SMS, Twitter and... |
| Kuliza | Crafts solutions in planning, designing, building and enhancing apps for complex business challenges. Also specilaizes in Mobile apps, Product Strategy, User Experience Design, Architecture and... |
| LogmeIn | Works towards providing cloud-based collaboration, customer engagement, connected objects, and IT management offerings required to empower, manage, secure and support the mobile workplace. |
| Mahindra Comviva | Company's portfolio of solutions spans over mobile finance, content, infotainment, customer value management, messaging, mobile data and managed VAS services. |
| Minacs | Business encompasses Customer Lifecycle, Marketing, Finance and Accounting, Procurement and IT solutions and services. |
| NICE SYSTEMS | Proffer solutions that cater to capturing and analyzing Big Data, Multi-channel interactions, Financial crime solutions, Customer experience management solutions and Security& public safety solutions. |
| Pulp Strategy | Company's forte lies in consumer engagement offline and online and a range of integrated solutions enclosing strategy, creativity, consumer insight, engagement design and technology. |
| QuestionPro | Provider of online survey software to generate the insights required to make business decisions. Cater tools for creation, distribution, and analysis of surveys, along with platform for polling,... |
| Regalix | Services involving Online Marketing, Social Media Marketing, Web Development, Mobile Marketing, Search Engine Marketing, Online Marketing Webinars, Search Engine Optimization. |
| ResponseTek | Caters Feedback Management for the Web, Call Center & Retail, Voice of the Customer Software, Complaint Management and indulges in building Customer Experience Management solutions. |
| Servion | Specialzes in delivering Customer Expereince By Design, Customer Interaction Management, Predictive Self Service, Product Engineering & Development and Customer Expereince Consulting. |
| WebEngage | Develops apps for Multi-Channel User Engagement, Cross-Device User Profiles, User Behavior Tracking & Analysis, User Segmentation, Email Marketing. |